I think the best way to learn English is to be immersed in the language, hearing it all day, everyday and having no other choice but to speak it. With that said, I am a huge fan of study abroad programs. That's how I became a fluent Spanish speaker, is by studying and living in Mexico. I have noticed that many of our students, especially those who attend class more than once a week, have become better and better at understanding what I say. Essentially, they are being "immersed" in the language because I don't use much Japanese at school, if at all, because the students are here to learn English, not hear more Japanese. I am so proud of all of our students and their hard work! They never cease to amaze me! I truly hope that these students will someday hope to become fluent in English and take the brave step of studying abroad for more than three months. I know their English will vastly improve, as will their confidence in their speaking and comprehension. As an English as a Foreign Language learner, do you agree or disagree with studying/working abroad to improve your English skills? Do you have the courage to leave your country and pursue your dream of becoming fluent in English?
My first Obon holiday in Japan was nice and I enjoyed it very much. Many of you know how much I enjoy biking (cycling) and during my Obon holiday, I saw so many serious bikers decked out (wearing and looking stylish) in their spandex and helmets. I was sad that I wasn't one of those bikers off on some fun and great adventure. Recently, I haven't been biking as much, but seeing these bikers inspired me and I have decided that for the next Obon, I will bike as far north as I can in Japan and then back to Okayama. It's a big goal and tough to do, but I can and will do it! In the next few weeks and until next Obon, I will train in Okayama Prefecture and eventually neighboring prefectures, up and down steep hills and mountains, come rain or shine so I can be in the best shape possible for my big adventure next year. It's an achievable goal and one that will be a lot of fun so wish me luck!
HELLO、啓心塾のブログへようこそ!
今日はHELLO、啓心塾でがんばっている姉弟をご紹介^^
しゅんやくん(年長) あやちゃん(小3)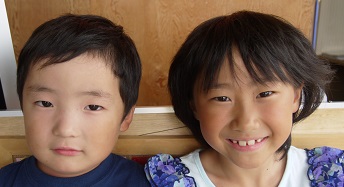 お姉ちゃんのあやちゃんは昨年からHELLOへ週1回通学していましたが、
今春、週4日プログラムが出来ると、
自分から
「4日行きたい!」
と言ってご両親にお願いしたそうです。
英語が大好きで、誰よりも早いペースでテストをクリアしていく姿には感心させられます(@_@)
弟のしゅんやくんは啓心塾土曜クラスに通学していましたが、
レギュラークラスへ移動してからは文字の認識が急加速し、
読むことがどんどん好きになってきています。
これからも、さらに切磋琢磨してステップアップしていくのを楽しみにしています!
acco
Last week, I went to Hiroshima and visited the Peace Museum saw the Peace Dome. It was a very moving experience, very emotional, and among the best experiences I have had since living in Japan. At the Peace Museum, I saw many people from America and Canada, which was very surprising to me. I did not expect to see so many non-Japanese people in one place. What was even more surprising was hearing English. It felt so strange to hear it and be able to understand everything, considering I rarely meet foreigners in Kurashiki and am so used to hearing Japanese. I felt like I was experiencing culture shock all over again! Although I stared at the English speakers, they ignored me. I must admit it felt pretty good to just blend in and not be stared at like a space oddity. To my Japanese students and other readers of this blog, do you stare at Westerners when you see them in Japan? When you go to foreign countries, are you stared at? How does that make you feel?
HELLO、啓心塾のブログへようこそ!
HELLOの週4日プログラム、啓心塾英語プラスプログラムが始まって丸3か月が経ちました。
最初は機器の操作も少しおぼつかない様子だった子どもたちも、
今では自分で取り出して、素早く操作!
完全に使いこなしています!
さすがIT時代に生まれた子供たちですね^^;
自学を取り入れた新しいスタイルにも慣れ、テストに合格するペースも早くなってきています。
外国人講師とのロールプレイ練習では、2週間あれば台本無しで会話ができるようになっています!
毎日コツコツ続けること。これに尽きますね!
acco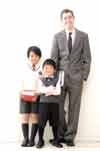 倉敷・英会話HELLO、啓心塾から日々の様子をお届けします。

by hello-eigo
School Data
〒710-0065
岡山県倉敷市花の街通り
56-1
TEL:086-434-0860
   (10:00~19:30)
定休日:水曜日
カテゴリ
全体
英語・英会話 HELLO
啓心塾
English Journal
全教室
ロボット教室
未分類
最新の記事
心をこめて
at 2016-05-24 18:59
検索
その他のジャンル
ブログパーツ
このブログに掲載されている写真・画像・イラストを無断で使用することを禁じます。
フォロー中のブログ
記事ランキング
ブログジャンル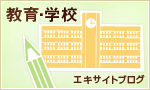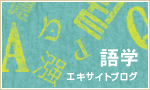 画像一覧